On Hold & IVR
.
Your call is important to us.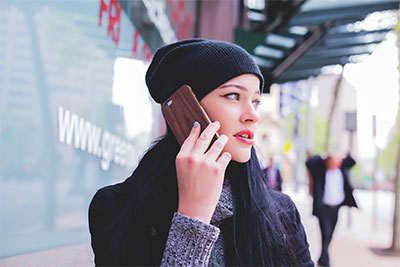 There's nothing worse than a recording of Doris in the office mumbling over Greensleeves to make potential clients hang up. If you keep them on hold, we can keep them interested. We'll supply audio for small suites of on-hold messages, and full IVR systems requiring thousands of individual prompts, and charge on a "per file" basis. Like washing powder, the more you buy, the cheaper we get.
Click the screen to hear what we sound like down the line.
Elinor spoke on International Women's Day for our event Brave, Bold & Bonkers – as our 'bonkers' guest speaker, really she was the most incredible (and most fitting) speaker I could have asked for. Even though I knew her story and had watched it unfold at the time, she still had me on the edge of my seat as she spoke. I wasn't alone – as I looked across the room, at the end of her speech, every one was wiping their eyes. She had us laughing with her, crying with her and looking to the future with her. Her story is amazing, she speaks with such wit, honesty and humour about her boys, her business and some bonkers times – with such professionalism, I wouldn't hesitate to recommend her or book her another time.
Faye Dicker, Broadcaster and founder of Freelance Mum
Everyone has a film or book that has changed their life and impacted them significantly. This was how I felt after listening to Elinor speak. She allowed us into her world and shared her rollercoaster ride with such eloquence, honesty and humour. Elinor has a beautiful voice and engages you from the moment she starts speaking. You feel she is speaking to you personally. She touched a room full of people in so many ways. Elinor is an inspiration to grab life and live it.
Charlie McCall, Fit For Adventure