Hello, welcome
to Sayer Hamilton
.
Recognise anyone?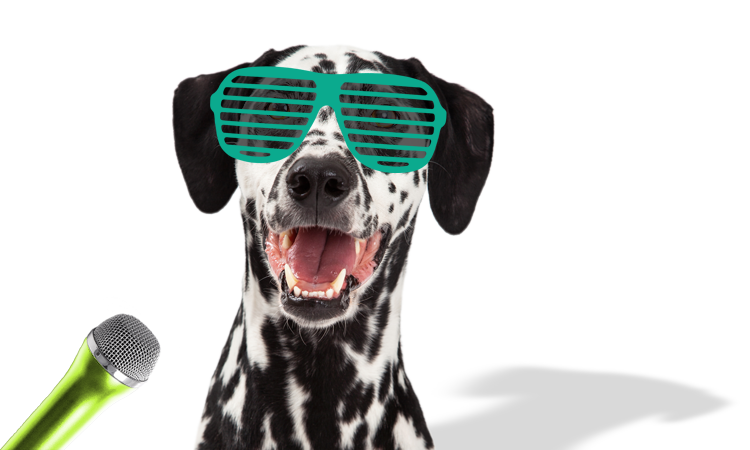 See Us...
Hear Us...
You won't know our faces, but if you listen to the TV or radio, catch a Tube, or have had your call placed in a queue, you've probably heard one of our voices.
I'm Elinor Hamilton, one of the UK's leading female voiceovers, presenter of Tales from the Tannoy, and MD of eLearning Voices. There's also a large spotty dog for all your "SFX: Barking" needs. Our team has recorded full-time from home studios for years, so Covid-19 hasn't changed how we work, and we can fulfil your audio project as normal in these unusual and worrying times.
We're all versatile and professional (not the dog – he's useless at sightreading), and have years of voiceover, broadcasting and production experience across the commercial and corporate sectors. Most of all, we're stress-free and good to work with, from contact to delivery.  It's business as usual here and we're happy to help.
Sayer Hamilton's quality, attention to detail and customer service is excellent. Throughout the years, Sayer Hamilton have continually exceeded exceptions by delivering an exceptional standard of audio regardless of the time frames. Sayer Hamilton's experience and flexibility make working together very simple from the initial conversations to project delivery. I would highly recommend their services!
Rory Fraser – Head of Operations, RelyOn Nutec Digital
I've worked with Sayer Hamilton for years, on what must be hundreds of projects. During which time, I've experienced nothing but attentiveness, professionalism, fun and downright excellent voiceovers! They're an absurdly talented bunch who will stop at nothing to make your production a little bit easier, and a lot better. Carlsberg don't do voiceovers…because Sayer Hamilton already do.
Rick Loynes – Group Commercial Producer, The Wireless Group
Sayer Hamilton have provided, and continue to provide an exceptionally dependable service with an expeditious turnaround that has been much appreciated over the years. We value their work and their genuine commitment to our needs most highly.
Ali Kirby, Cleared4
Delivering high quality audio in a consistent and timely manner is a must for our business needs. Sayer Hamilton Ltd provides an excellent service; flexible, reliable, friendly and professional.
Aisling Curran – Senior Training Solutions Manager, ICON plc.
As if there weren't already enough reasons to love & admire @sayerhamilton I've just recorded a #voiceover to a commercial she's on where her performance was simply #epic
@HappyAccident_