Covid-Compliant, Quality Voiceovers
.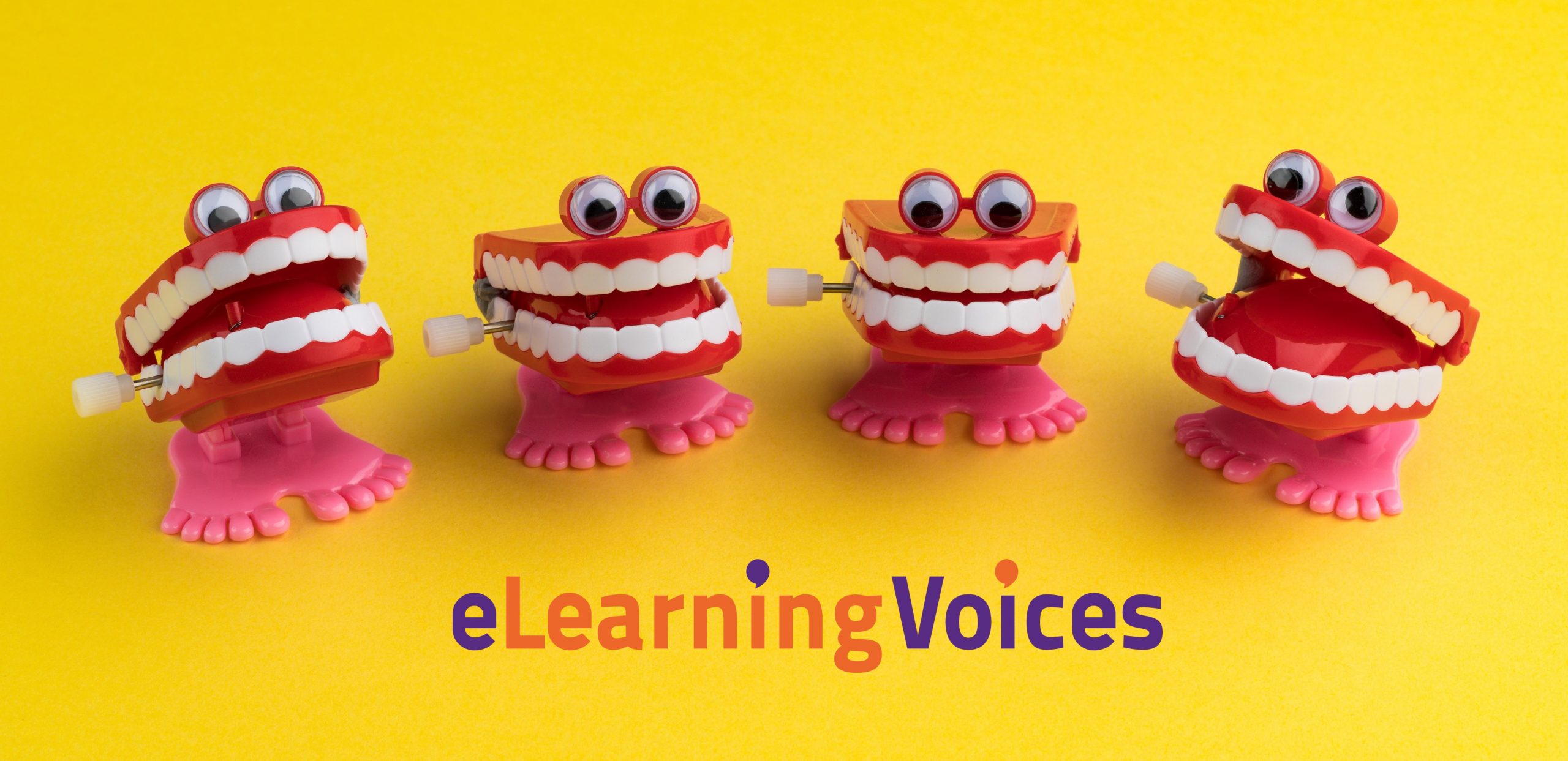 Last week, we presented a webinar to the eLearning Network, about how to book quality voices for eLearning. It wasn't a sales pitch – in fact, quite the opposite. There are many paths that lead to finding the right voice to match your content, and at our sister company eLearning Voices we tend to work on specialist, multi-voice projects. But we're keen to fly the flag for high quality, no matter how you go about finding it. And often, it's hard to know what's good quality and what isn't, until you've already bought and paid for it.  
As with anything, you get what you pay for, but sometimes, you'll pay as much (or more) for a voiceover that doesn't actually reflect the brilliance of your content. And people who don't know VO won't necessarily know the warning signs that WE shy away from when we're choosing who to book for a particular project. I'll address that in a future blog, but for now I want to talk about working with a voiceover, while we're all locked down, because a lot of clients feel as if their options might suddenly be limited. They're not.
For some reason, my camera wasn't working during the webinar (it had been in rehearsal) which was disappointing because – unlike many voiceover artists at 11am – I had actual clothes on and everything. AND lipstick. Still, the good thing about VO is that nobody needs to know what you look like anyway, which is sort of the point – and not the point, all at the same time. If you're booking a voiceover to appeal to a diverse audience, does it matter where they come from or what their skin colour is? Well, actually, increasingly, the answer is yes. So now you're not only looking for a voiceover, but one that reflects the background of the avatar on screen – and rightly so. No wonder some eLearning creators think that creating diversity in their audio, to reflect the diversity in their audience, is a minefield that they simply can't navigate. But it shouldn't be.
One attendee mentioned that she'd recently heard of a voiceover session which had been done in the voiceover's home studio, with the producer recording down the line and the learning designer/client listening in over the internet. I was surprised that this option wasn't commonly known about. We book these sessions all the time, and they work brilliantly well. Only the other day, we worked with voiceovers in India, Spain, America and, er, Bognor Regis… all on the same day, for the same project. The client never once left the comfort of their home, but they were able to offer as much input as they wanted.
In the age of Covid, nobody can go anywhere, but we still need to produce content that's as good as it would be if we were all collaborating in the same office. So it's brilliant that the technology exists to book a number of different voices, at different times, to record different parts of a script, and then collate them all, produce them, and send them back (with sound levels to match, as if they'd all been recorded together) – while always giving the client total control over the direction.
It surprised me that this wasn't a service that's commonly used, or even known about. If you – or your client – wants total control of the direction of a voiceover, it's really quite simple to dial in. We do it all the time, and it works a treat. It won't necessarily cost more, either. But if you don't think you can add anything more to the 20,000 words of oil and gas health and safety training that you've been working on for days, then that's fine too. Any good voiceover will understand the content and nail it anyway.
Someone else commented that they'd once booked a well-known BBC presenter for a corporate voiceover job, and that they were blown away by the fact that he'd just picked up the script and recorded it. He even repaired split infinitives on the hoof. What surprised me was that this was… a surprise. It's part of the job of a voiceover to read a script fluently, even if it's highly technical. We're like professional musicians who can (because it's their actual job) take a complicated piece of music and read it by sight.
This is what we do. This is what you're paying for. Not just the time it takes to record those words, but the years of experience and the thousands of pounds' worth of technical investment which means that the voiceover can – and will – read it and return it, fault free, in no time at all.