Inspirationally Speaking
.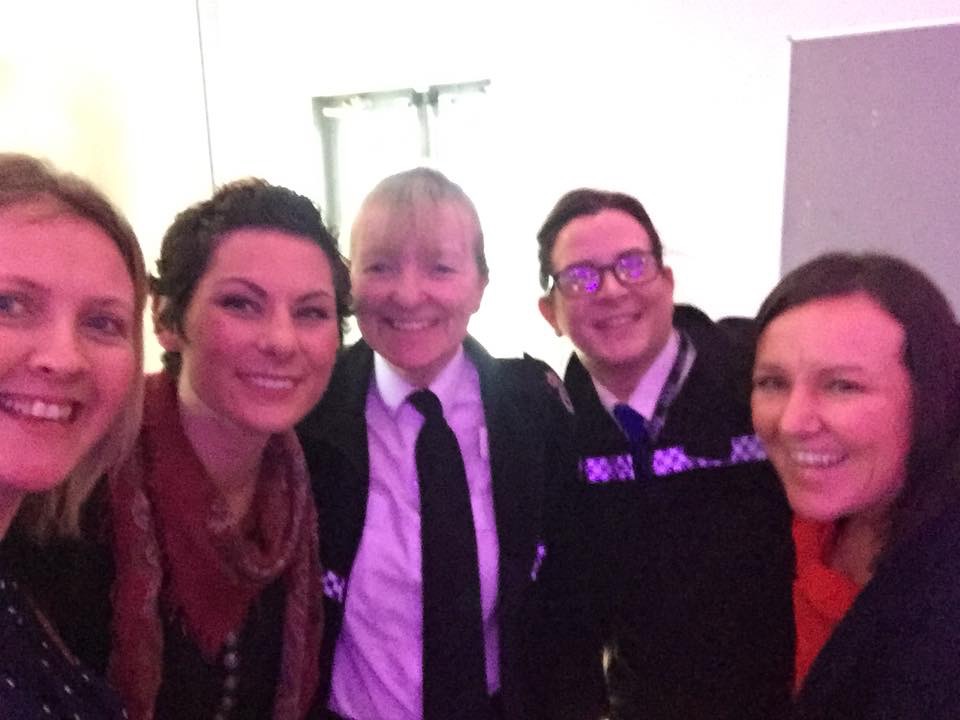 Last week, I came out from behind the microphone to do something a little different. I read some words that I'D written, in front of some actual people. (Usually, I read other people's words into a microphone, alone. In fact, I don't even need to get dressed… although I do. Just to clarify.)
I'd been asked to tell my story to delegates at the British Association of Women for Policing conference, as an "inspirational woman." An old friend of mine who works for the Police had been following my progress for a while, and felt my unusual story deserved an audience. I wasn't sure that I'd be up to it – in fact, I didn't have a clue what to write – but I do like to accept challenges which are way out of my comfort zone. So I agreed.
Shortly after Phil died, I was diagnosed with breast cancer, and for a year I juggled surgeries, children, this newly-depleted business, chemotherapy, radiotherapy, and walking Brian, with bereavement – both mine and the boys'. As all this was going on, he and I were still working together, announcing trains in Tube tunnels, as if everything was just as it ever was. And we still do. I hope we always will.
The last few years have been a difficult ride, and I'll always be grateful that I've had the all-clear, but it goes without saying that I wish Phil had heard those two very special words too. To celebrate my good health, to prove to the boys that I'm fit and well again, and to raise money for research into oesophageal cancer in Phil's memory, I'm training for the London Marathon (because I don't like to sit down for long.) If you'd like to sponsor me, please do so here.
I wasn't sure if I'd enjoy standing up and speaking to people in real life. I've been on stage before, but always as a character – so being myself was new territory for me, but I loved it. The audience were brilliantly warm and receptive, and they even laughed (and cried) in all the right places. I went home feeling as if I'd had the opportunity to inspire a whole new group of people, and was pleased to have been able to tell our story. I also left with more bookings… and will be delighted to speak again. If you're planning an event, and would like to know more, please get in touch.