Welcome
.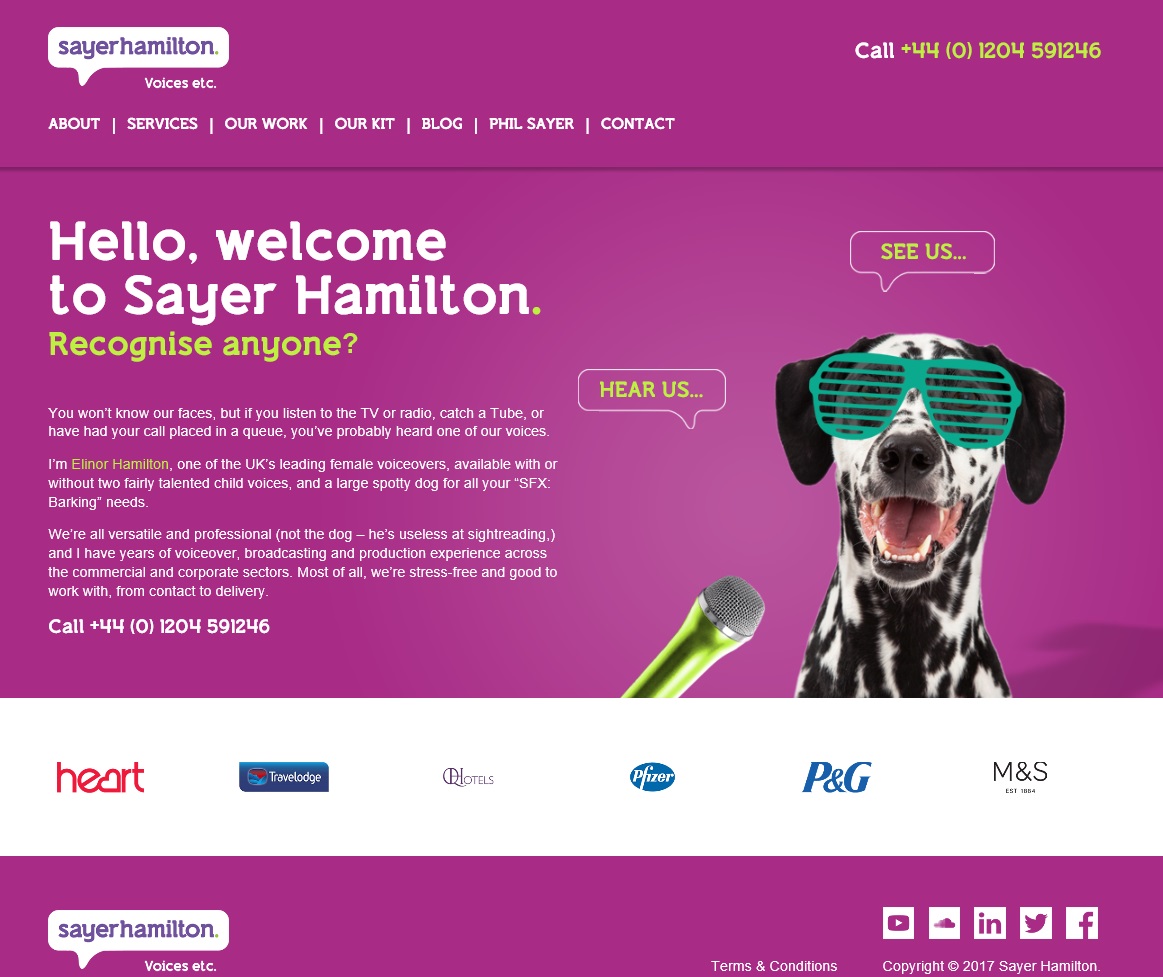 Welcome to our new website. After Phil died, I knew I needed to update and refresh the old one, but it took me a while to get going with it, and as anyone who's lost a spouse will know, there's an awful lot to do, alongside the grief… In the end, I realised I liked the old site – and so did everyone! – so, rather than completely change it, I decided to stick with the original design, but change a few things to reflect the fact that, sadly, we're now a man down. This included losing our lovely clown and gorilla from the homepage – and, since I didn't just want to be a lone clown, we decided to use an image which would constantly remind us of Phil's worst ever idea. A Dalmatian.
The team at Bring Digital have been fabulous, and have worked really well at updating the brilliant design which Ahoy Creative came up with a few years ago. Bring Digital have rebuilt the site to reflect where we are now, and the services we still offer. It's actually something that Phil and I had talked about doing in the past, but his diagnosis meant we put it on the back burner until he was better. Ahoy's design worked so well for us in the meantime that we never felt compelled to change it (actually, they probably did themselves out of ongoing work because it was so good to start with!)
Partly because Phil's name had remained on the homepage for quite a long time after he died, and partly because I became too busy to get cracking with updating it, he still gets quite a lot of new enquiries, and is still very much in demand, which he'd be delighted about. With any luck, the new site is clearer that the boys and I are the main voices, though we have several associate male and female VOs who we can bring in whenever we need to. At the same time, it was important to us all to remember the person we're named after, while also recognising that we need to move forward in our own way, so we've worked very hard at compiling a permanent tribute page to Phil, which we hope you enjoy.
I'm extremely grateful for the hard work of Richard O'Donoghue in updating and creating 11 different showreels for us all. Alex and Ben have new reels (they keep growing up at an alarming rate, and their voices are changing every year) and I have lots of different ones to reflect the different strands of work that I do. We also wanted to make a reel which paid tribute to Phil himself, and to remember the fun we all had together in the studio over the years. They're both longer than your average demo, but why not? We're not selling ourselves any more, and it's a nice memory for our friends, family, and past clients to dip in and out of whenever they like. And they'll never be updated, sadly. Thanks to Michael Dentith at S2Blue, Shelly Smith at Global Radio, and Sharon Wrightson at Metro Radio for finding some lovely outtakes of the two of us working together. I think Rich has done a wonderful job in mixing all of them – particularly in making Phil's tribute reel both sensitive and fun – and we would highly recommend him. I'm also thrilled with the new headshots of me, the boys, and Brian, taken by Simon Walker.
I'm also really grateful to Phil's old friends at the BBC, particularly Karen, for sending all the clips of him presenting Children In Need, which you'll find on Phil's page (and plenty more on our YouTube channel,) and to Bob Lawrence for sending over the audio of Phil working hard on the Voice of Peace in March 1976. Chris Stevens at Devaweb has done a lovely job of mixing the audio into a short snapshot, and we think it sounds amazing – although I'm glad he dropped that Mid-Atlantic accent long before he met me. Simon Galloway and John O'Brien from Key 103 were able to kindly send over the Piccadilly audio from the documentary "Mr Birch's Baby – A Celebration of 20 Years of Piccadilly Radio", which I think is a really nice touch. I'm still on the lookout for any links from Phil's time at Piccadilly, though. Believe it or not, in the 15 years we had together, I never saw any clips of him on the TV or on Piccadilly/GMR, so it's been a real thrill to see him in action, but I'm yet to hear him in the place he was, arguably, best remembered. If there's any audio in existence from those days, we'd really love to hear them.
Finally, a big thank you – as ever – to our valued clients for keeping our business going by continuing to use us for your voiceover projects. It's been a real honour to continue to work with my own existing clients, as well as establish new relationships with clients who were traditionally Phil's. I'm also delighted that so many who enjoyed his inimitable brand of customer service have come back to Sayer Hamilton for my voice instead. (I think Phil would be really pleased about that, particularly because it means his children are still fed!)
It's not been easy to lose Phil, and it still isn't, but returning to his favourite place – the right side of a microphone – makes us all feel so much closer to him. His legacy is strong, and it's our pleasure to carry it on.