A Winning Weekend for Phil
.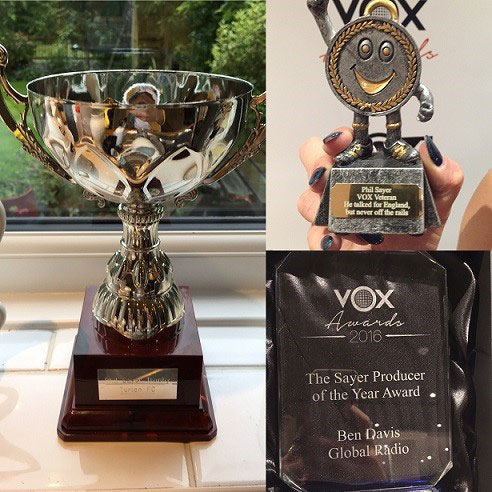 This weekend was a very special one. Phil and I have attended the annual VOX conference for voice and audio professionals for the last 14 years, but for the first time ever, I didn't have my right hand man beside me.
At the evening's awards ceremony, brilliantly masterminded by Posy Brewer, Stevie Cripps and Rob Bee, and hosted with flair by the fabulous Marc Silk, we were all very proud to witness the very first ever Sayer Producer of the Year award being given to Ben Davis at Global Radio, after a very moving video tribute to Phil, and a spontaneous standing ovation.
I was even prouder to accept the very first VOX Veteran award for my fabulous partner in crime, to recognise his support to the industry as a whole. An emotional evening, but no less than he deserved. Thank you, VOX team.
Later that weekend, my hangover and I were slightly dreading the Turton Tigers football presentation, consisting of 12(ish) 10/11 year old boys and their siblings all squealing together in a pub, but it was another lovely afternoon – not least because of this. Another award has been created in the name of Turton Tigers U11s' most loyal supporter (and kit sponsor,) Phil Sayer, which is to be given every year to a child who makes plenty of effort and never gives up – just like the man it's named after. Our two boys play on the team, and Phil never willingly missed a match. Even when he couldn't be there, he insisted upon receiving score updates by text. We all miss his hilarious pitch side commentary – which was not always focused on the action on field, but often on the state of the opposing team's parents' choice of haircuts and tracksuits.
Even more wonderful was the fact that the panel had decided that this year's worthy winners were our two sons, Alex and Ben, jointly, for being brilliant team players and always putting in 100% for the Tigers even in the darkest of times as they lost their beloved Dad.
Although we are taking some time to get used to losing Phil (and it goes without saying that we miss him every day,) to see him not only remembered, but admired to the point of having trophies named after him in two of the places he was most at home – in the glitz and glamour of the voiceover industry, as well as in grassroots football – confirms to us all that we are very lucky to have had him in our lives. If only we could have kept him for longer.
May his memory, his influence, and his voice, live on for many years to come.