The Incredible Mr Bridge
.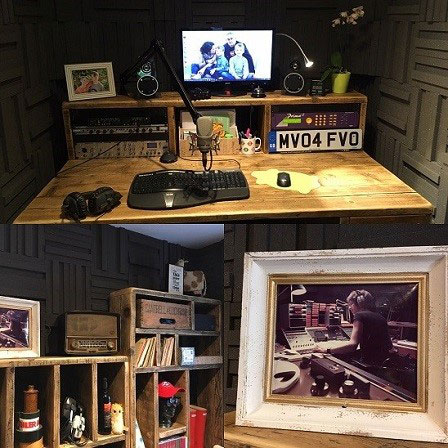 A "shout out," as we say on the wireless, to someone who has done amazing things for us over the last few weeks.
When Phil and I talked about his future retirement, we knew that it would make sense for us to rework the studio so that it was properly set up, as for years it had sounded great but looked awful, with leads and wires and bits of mixer all over the place. It was Man Heaven for Phil, but even he had to admit that it looked pretty grim, although who doesn't like a filthy lilac carpet glued to an old dining table? Being quite the expert on this sort of thing, he was able to tweak and solder things regularly to keep it all working, but as I am a self-proclaimed idiot on these matters, he wanted it to be right for when I had to take over on my own. We were long overdue a refurb and Phil planned for us to do it together, months before he had to hang up his mic. The new furniture happened to arrive on what ended up being his last working day.
By the time we'd finished the day's recording, Phil wasn't feeling too good and his breathing was a bit off, so I derigged on my own, built the new furniture with help from friends and neighbours, and put it all back in again ready to get back to work the following day. I switched it on and it wasn't right. By then, it was late, and we had his outpatient appointment at the Christie in the morning. As we now know, they kept him in, scanned him, and a day later sent him home to die.
While Phil still believed he would be home and back at work in no time, he called Gary Bridge – an old friend and Studio Engineer Extraordinaire – to ask him to hook up with me on Skype to see what I'd done wrong. He didn't just do that. He came up from Derbyshire to Bolton at least six times over the course of the next two weeks when it became clear that Phil was very poorly, and with Phil's input for the first week, rewired, re-equipped, and refurbished our studio from scratch.
It was important to Gary that he wasn't dismantling his old friend's hard work, and Phil assured him he was happy for it to be done, it had been planned for months, and enjoyed watching it all come together. For the last week of his life, Phil wasn't really aware of what was going on, but the last thing he did, on the Saturday night before he died, was to get out of bed and shuffle to the studio. He opened the door, stood for a while, said it was wonderful, smiled, nodded, and closed the door. I don't think he got out of bed again after that.
Gary wasn't just an engineer over the time he spent with us – he was a very good friend. He was there for Phil, and there for me, and did far more for us than rewiring a studio desk. Because he wanted to help us out in our time of need, Phil almost had to beg him to accept something as payment… and they finally settled on his vintage pinball machine (which means something special, as Phil and Gary used to spend hours together restoring such machines when they both worked at Piccadilly in the 1970s.)
It's small comfort to me that Phil helped to build it, but sad beyond belief that he never got to use it. I wouldn't even mind if he left all his old coffee cups and scripts lying around like he used to, as it's far too tidy for Phil's liking. The only thing left to buy are some decent monitors, but as Phil always said, if you can be confident that what's going in and out of the mixer sounds right, then speakers aren't as important. It sounds brilliant and is great – if a little lonely – to work in.
The least I can do for Gary after everything he's done for us is to take to the internet, and promote him. He is a top-notch studio engineer, able to build everything from big radio studios such as Piccadilly, Real/Smooth etc., to little voice studios like ours. It sounds truly fabulous, and every wire has been made and installed by Gary's fair hands. He is available for freelance work and we would both highly recommend him.
He also dispenses jolly good hugs completely free of charge.
Thank you, Gary – you have helped to make the most awful situation a little more bearable. Thanks to you, it was almost a pleasure to get back to work. I am still in awe of how hard Phil worked towards the end, and how desperate he was to make sure his family could continue to live and work as easily as possible without him. Most people would have given up long before, but Phil and Gary rolled up their sleeves, made good things happen, and Phil helped to create a future for his family, even though he knew he wouldn't be there to share it.
Thank you both. xxx
For your studio project, Gary can be contacted at [email protected]