Phil Sayer ~ Obituary
.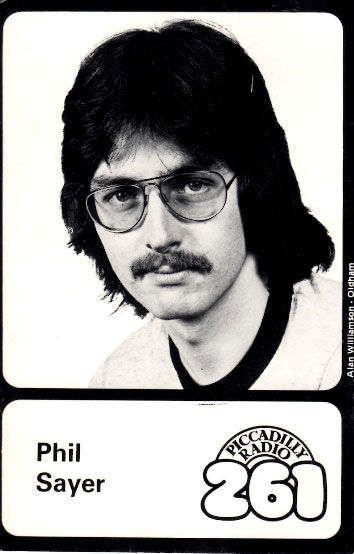 Phil Sayer had one of the most familiar voices in British life, but one that had no known face attached. His authoritative London underground announcement 'Please mind the gap between the train and the platform', has subtle and humane inflections that reshape severe warning into firm but kind advice, while across the railway network, and most recently at the new Oxford Parkway, he can be heard advising travellers on the times and destinations of their trains, and apologising with many shades of regret and explanation if they seem to be delayed.
Sayer, who has died of cancer after a long illness, was one of the leading 'voice-overs' of his generation. You may hear him delivering a health and safety briefing; he may welcome you politely to a corporate office on the phone; he might, quite powerfully, try to sell you a sofa in a radio ad. Wherever you may be, Phil Sayer is likely to be there with you.
Born in Norwich in 1953, Sayer, then with his family surname of Clift, was taken at a young age by his mother to live in Liverpool where his father also joined them. His father, Cyril Clift, who preferred to be known as Ken, worked in local authority town planning and later on Canadian Pacific transatlantic liners operating out of Liverpool. His mother, Pauline, known as Hazel, brought up Phil and his sister and latterly worked as a hotel receptionist. Theirs was not a happy marriage, but Sayer progressed brightly at schools in and around West Lancashire, winning a scholarship to the direct grant Merchant Taylor's, Crosby. Nevertheless, he left aged 18 with good 'O'-levels, but no 'A'-levels, and a miserable home life. With the Mersey sound still beating in his ears in 1971, he signed on as unemployed at Wallasey labour exchange. He became a timber merchant's clerk, a fairground hand, a cardboard sorter at an early recycling plant, a bingo caller, a driver for an air freight company, and through the flukes of life and chance a DJ compère at Baileys in Watford, then the largest nightclub in Europe.
That was where Sayer's mellifluous voice and natural charm coalesced with a talent for thinking on his feet and filling sudden awkward silences with gentle patter. He might do an astonishing build up for Tommy Cooper, exchange a gag with Mike Reid or make the audience roar for Bob Monkhouse, and go back to the disco turntables to play records until 2 am. He was in his element, well paid and highly thought of. This led to work in radio at more sober hours, for the industrial station United Biscuits Network, where he would broadcast daily to over forty thousand listeners in UB factories, warehouses and shops. As UK pirate radio stations evolved into the new generation of licensed commercial land-based local stations, Sayer was invited to join The Voice of Peace, a pirate radio station anchored off Tel Aviv, promoting peace between Israel and Palestine.
"Life on board was generally good among the all-male team, but much depended on the capricious spring weather off the Israeli coast. We received, from a tender from Tel Aviv, new records sent by air from America, so musically, we were weeks ahead of the state radio station, which was tied up with political embargoes and licensing restrictions. This gave us a huge advantage."
But the little ship, designed to carry cargo, now carried no more than broadcasting gear, and on deck its tall steel lattice mast and electrical generators made her so top heavy that she pitched and rolled dangerously during storms. The broadcasting crew would stagger about, picking up innumerable bruises, eating at the mess table with plates sliding this way and that, while below decks just managing to keep the records spinning at 45rpm as the ship lurched monstrously.
Sayer and his long-term partner Mary married in the early 1980s, and had two children, Richard and Joanna. By now Sayer had left The Voice of Peace and returned to the dry land of UK radio where he began to build his career. For professional purposes he had renamed himself 'Phil Sayer', taking his mother's new husband's name, because 'Clift' had an uncomfortable sound on radio. Appointed first to Piccadilly Radio in Manchester, where he became a well-known voice on both the small hours 'Nightbeat' slot and 'Drivetime' in the afternoon, he moved on to Granada TV as an announcer and presenter, and then from January 1983 to BBCTV in Manchester as a freelance presenter on Breakfast News. On GMR, now BBC Radio Manchester, he later hosted his own daily programme.
Even in the burgeoning era of regional broadcasting, employment for freelancers was volatile, and in due course Sayer launched the freelance voiceover business that was to carry his warm, honey-soaked voice into 'Mind the Gap' on the underground. He and Mary had divorced after six years, and having been in and out of a second marriage, and then a single parent to his first two teenage children, in 2002 Sayer married Elinor Hamilton. He and Elinor had met during a smoking break on the fire-escape of Tower Radio in Manchester where Elinor was also an occasional freelance student broadcaster. They have twin boys, Alex and Ben. Together they set up their own voice-over company, Sayer Hamilton, and can occasionally be heard together on the underground, Elinor announcing the train to Cockfosters, and Phil advising 'Mind the Gap'.
Behind Phil Sayer's professionalism, and his courteous public expressions of direction and regret, was a warm, welcoming family man, a raconteur of wit and humour, and, probably, the all-Bolton champion Monty Python impersonator: all the voices, all the sketches. While Sayer's light-hearted and engaging presentation style will still be remembered by middle-aged listeners in the north west of England, his command of the running of the railways remains with us. As a train pulled out a minute late one evening I heard him say: 'the 5.33 from Birmingham New Street to Reading is delayed on platform 2.' A commuter, running down the stairs, saw it disappear and called out 'Lying bastard!'
He is survived by Elinor and his four children.
Philip Clift ('Phil Sayer'), broadcaster and voice-over. Born 18 May 1953, Norwich; died 14 April 2016, Bolton.
– James Hamilton